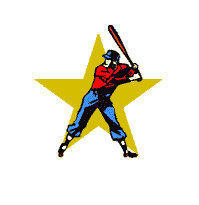 The 1998 OOSL Home Run Derby
---
". . . When picking the All-Star reserves the League Manager must also assign six All-Stars to represent the league in the Home Run Derby. . . ."
-The OOSL Constitution-
---
1998 OOSL Home Run Derby

The twelve competitors chosen by the League Managers (Mike Thomson - AL, Chicago White Sox, and Dirk Knemeyer - NL, New York Giants) are listed below along with their prodigious efforts in this most hallowed of fun-time contests.
Here is a convenient Link to the 1999 Home Run Derby page so you can easily compare the years:


AL Home Run Derby Sluggers:



1. Babe Ruth, New York............3
2. Joe DiMaggio, Philadelphia.....6
3. Mule Suttles, New York.........9
4. Wally Berger, Toronto..........9
5. Lou Gehrig, Boston.............8
6. Josh Gibson, Cleveland.........6










NL Home Run Derby Sluggers:



1. Al Simmons, Kansas City........7
2. Oscar Charleston, New York.....2
3. Willie McCovey, Saint Louis....2
4. Rogers Hornsby, New York.......5
5. Johnny Mize, Philadelphia......3
6. Jimmie Foxx, Cincinnati........5










Home Run Derby Playoff:


The twelve Derby Sluggers battled it out until only two were left -- Wally Berger and Mule Suttles, both of the AL. The AL used their home park advantage to good measure and buried the NL 38-24. But it wasn't over yet. Wally and Mule still had to go one on one for the Derby Crown. The results -- Wally Berger 1, Mule Suttles 0. The Home Run Derby Champion for 1998 is Wally Berger of the OOSL AL Toronto Blue Jays.

Thanks go out to Lon for finding this great shot of Wally Berger for us.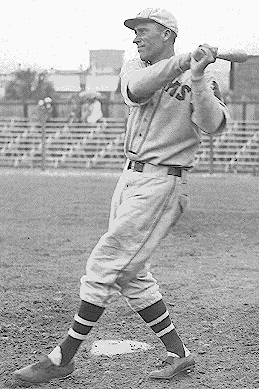 Wally Berger
1998 Home Run Derby Champion
---
"Power is important to me. I need drive; I need torque. I learned a lot about torque from Sadaharu Oh."
-Steve Garvey-
---

Click here to send e-mail to the OOSL League Office with questions or comments.


---
Back to the All-Star Index



Back to OOSL Central.




---



---

This site designed by MoonWolf Enterprises
Copyright 1998 OOSL © All Rights Reserved
Copyright 1998 John Mortimer © All Rights Reserved
Copyright 1998 MoonWolf Enterprises © All Rights Reserved