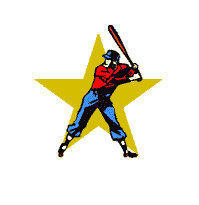 The 1999 OOSL Home Run Derby
---
". . . When picking the All-Star reserves the League Manager must also assign six All-Stars to represent the league in the Home Run Derby. . . ."
-The OOSL Constitution-
---
1999 OOSL Home Run Derby

The twelve competitors chosen by the League Managers (Mike Thomson - AL, Chicago White Sox, and Dirk Knemeyer - NL, New York Giants) are listed below along with their prodigious efforts in this most hallowed of fun-time contests.
Here is a convenient Link to the 1998 Home Run Derby page so you can easily compare the years:


AL Home Run Derby Sluggers:



1. Wally Berger, Boston...........8
2. Mule Suttles, New York.........2
3. Lou Gehrig, Boston.............6
4. Josh Gibson, Cleveland.........1
5. Rogers Hornsby, New York.......9
6. Ted Williams, Detroit..........2










NL Home Run Derby Sluggers:



1. Gabby Hartnett, Cincinnati.....2
2. Jimmy Foxx, Cincinnati.........4
3. Turkey Stearnes, New York......4
4. Oscar Charleston, New York.....3
5. Johnny Mize, Chicago...........9
6. Babe Ruth, New York............7









Home Run Derby Playoff:


The twelve Derby Sluggers battled it out until only two were left -- the AL's Rogers Hornsby and the NL's Johnny Mize. The NL used their home park advantage to squeak past the AL 29-28. But it wasn't over yet. Hornsby and Mize still had to go one on one for the Derby Crown. The results -- Rogers Hornsby 5, Johnny Mize 1. The Home Run Derby Champion for 1999 is Rogers Hornsby of the OOSL AL New York Yankees.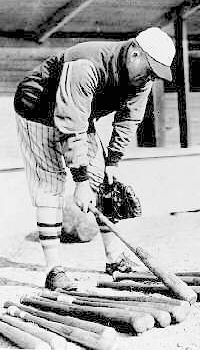 Rogers Hornsby
1999 Home Run Derby Champion
---
"Power is important to me. I need drive; I need torque. I learned a lot about torque from Sadaharu Oh."
-Steve Garvey-
---

Click here to send e-mail to the OOSL League Office with questions or comments.


---
Back to the All-Star Index



Back to OOSL Central.




---



---

This site designed by MoonWolf Enterprises
Copyright 1999 OOSL © All Rights Reserved
Copyright 1999 John Mortimer © All Rights Reserved
Copyright 1999 MoonWolf Enterprises © All Rights Reserved