The "Ohio Old-Time Strat-O-Matic League World's Series Championship Trophy" is what it is all about. The winning team every year has their name permanently etched into it, not dissimilar from hockey's "Stanley Cup." The square where the year and name are etched is referred to as the "most valuable 1 X 2 inch piece of real estate on the planet."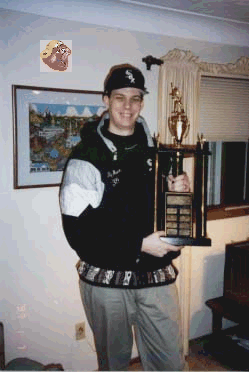 Here is a picture of Mike Thomsen holding the Championship Trophy. He represents the 1996 and 1997 World's Champion Chicago White Sox. Every year a photo of the new Champion will be published on this web page to celebrate their fantastic victory.



---

Click here to send e-mail to the OOSL League Office with questions or comments.


---
Back to OOSL Central.
---



---
There have been

visitors to this OOSL page since 6/3/98.
---

This site designed by MoonWolf Enterprises
Copyright 1998 OOSL © All Rights Reserved
Copyright 1998 John Mortimer © All Rights Reserved
Copyright 1998 MoonWolf Enterprises © All Rights Reserved