---

Travis is the owner of the Detroit Tigers base ball club. They won the American League West title in 1994, finished second in 1995, fourth in 1996, and sixth in 1997. In '94 his Tigers advanced to the World's Series, losing in seven games. Travis is currently employed in the administrative offices of the Mid-American Conference and as a sales associate for Budget Car Rental. He is also working toward a B.A. in sports management at the Bowling Green State University. He lives in Sylvania, Ohio.
---

John works as a Supervisor for Carus Chemical Company in Peru, Illinois. John has been married to Kym for 10 years. John and Kym have 3 children - Olivia (7 years old), and twins Morgan and Mitchell (5 years old). They reside in Spring Valley, Illinois, which by the way is where the Strat-O-Matic cards are printed. John has been playing Strat-o-Matic Baseball since 1979, and has been, unfortunately, a diehard Chicago Whitesox fan all his life. John wishes Good Luck to all in the upcoming season!
---

Josh manages the Brooklyn Dodgers franchise. They finished in second place in 1994, in fourth place in 1995, in third place in 1996 in the National League East, and finished in second place in 1997 in the NL West. A league award for futility, the M. Joshua Kirshner Award, is named after him. Josh is a tried-and-true college man, attending class and enjoying collegiate life full-time. He goes to the Bowling Green State University and is nearing completion on a B.A. in communications. He hopes to work as an on-air radio voice in the near future. Josh lives in Bowling Green, Ohio.
---

Dirk runs the defending World's Series Champion New York Giants. He graduated from the University of Toledo with a B.A. in English and from the Bowling Green State University with an M.A. in popular culture. He is employed as a Humanities instructor at Owens College. He is married to fellow league member Shannon Knemeyer. They have two children: Brandon, 5 and Alexander, 3, and they live in Oregon, Ohio.
---

Shannon controls the Cincinnati Red Legs squad. They won the National League West 1994 through 1996, and went to their first World's Series in 1996. In 1997 they changed divisions and finished second to the Giants. Shannon currently is working as a medical transcriptionist while also the mother of her two sons: Brandon, 6, and Alexander, 4. Shannon lives in Oregon, Ohio.
---

Dan Lee is the owner and manager of the Cleveland Indians. His team is known for its powerful hitting, featuring Josh Gibson, Shoeless Joe Jackson, and Hal Trosky. The Indians had their best-ever season in 1997, winning 80 games and finishing in second in the American League West.

Dan was born and raised in Canton, Ohio. He is the proud holder of a Bachelor of Arts in Communication degree from the Bowling Green State University in Bowling Green, Ohio. Dan is currently employed as an editor at the Ohio News Network in Columbus, Ohio. He, his wife Jodi, and their cat Olivia reside in Bexley, Ohio.
---

Big Ed is the owner of the Philadelphia Athletics. The Athletics had the worst record of any OOSL team in 1996 with a .422 Winning Percentage before he took over. When not stalking the virtual diamonds Ed occupies his time with Moonwolf Enterprises, his computer VAR and support business, and as a House Manager and Client Supervisor for Perception House, a drug and alcohol treatment facility. He lives in "The Lost Corner" of Connecticut in a building called "The Connecticut Gables."
---

John owns the St. Louis Cardinals. He brought the Cards home in first place in `97, his first in the league. John works as a computer numerical control (CNC) Machine Operator and teaches karate at the West Haven Academy of Karate. He earned his Second Degree black belt (or Ee Dan) ranking in Tang Soo Do, a Korean style of karate in 1998, and also holds a first degree (Sho Dan) in the Shiho Karano system of Ju-Jitsu. He is father to a twelve year old daughter, Nicole Marie (pictured) who "will someday win the Nobel Peace Prize, or the Most Valuable Player Award." They live together in Ansonia, Connecticut.
---

A native of Connecticut, Mike resides in Ansonia. A fan of the Los Angeles Dodgers whose favorite player is Steve Garvey. Mike is a Navy veteran who served on the U.S.S. John F. Kennedy CV-67 during his tenure in the service. Mike has two children, Elizabeth and Brett. He is a Distribution Manager for X-Pect Discounts, the New England arm of a prominent Midwestern chain, and a volunteer fireman as well. Mike is recently retired from a competitive Dekhockey league where he played on two championship teams and once won the equivalent of a Vezina Trophy.
---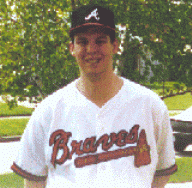 Mike is the owner of the Chicago White Sox. They finished second in the American League East in 1994 and 1995, and won both the AL West and the World's Series in 1996 and 1997. Last year, the team missed the playoffs, finishing a disappointing second in the AL West. Mike is known around the league as "Trader Mike" for his free-trading ways. He lives with his wife Susan, their 3-year old daughter Natalie, and their cats Tigger, Smokey and Mouse in Toledo, Ohio.
---

Dean is the head of operations for the Chicago Cubs. The Cubs finished second in the NL West in 1994 and 1995; third in 1996, and tied for fourth in 1997. He is best known for the Ernie Banks model bat he strokes vigorously during his games. Dean is working as a salesman with a regional furniture company. Dean graduated with a B.A. in chemistry from the University of Toledo. Dean is married to Heather Dickson. They live together in Toledo, Ohio.
---

Lon is the manager of the Baltimore Orioles. In 1996 he completed his first season in the OOSL by moving the Orioles from last to second place. 1997 saw the Orioles end in fifth place. Lon graduated from Mankato State University with a B.A. in dual majors: business management and industrial relations. He also earned a minor in economics. Lon is an accountant who owns his own business, Practical Business Services. He and his wife Kathy share a son, Sam, 6. They also have a Lhasa Apso, Woody. They all live together in Mankato, Minnesota.
---

You may ask, "What is an Englishman doing joining in a pastime which is based on the American national game?" Well, here's the answer!

Mark first got the baseball bug when he got hold of a computer game in the dim and distant past called Earl Weaver baseball. The gameplay was simple yet addictive and he created all time great teams with such stars of the past as Rajah, Goose Goslin and Ross Youngs. Mark got hold of a second hand set of Pursue The Pennant with great players of the 80's, and he was hooked. Then came a Strat set with the All Time great players. Mark now has around 40 baseball related boardgames and a few computer games.

Fast Forward to 1998. A friend in the U.S.A. sent Mark his outdated Strat-O-Matic CD-ROM version 2 . . . well even though Mark only had the 1996 team and a few of the cards he had great fun! Mark then ordered version 3, the CHD's, and the 1975 season (the Big Red Machine trundles on).

Around December of 1998 he saw a request for managers for the Union League from John Mortimer. Mark checked it out and joined up as manager of the Cincinnati Outlaw Reds. Mark checked out all the various links from the Union League and found the OOSL site. Wow! It was by far the most comprehensive site he'd seen for any league. After gaining confidence from managing in the Union League he took the step of applying as an Associate Manager in the OOSL. Mark takes charge of the Detroit Wolverines for their inaugural season in the American Association.
---

Chris' interest in Strat-O-Matic Baseball has been almost lifelong. He began as a five-year old playing with his older brother, and it was not long before he was playing the basic version on his own. Growing up in central Illinois in the mid-1970's, he and his brother did not have a great deal of success trying to lead their beloved Chicago Cubs to the pennant, but they developed a great love for Strat-O-Matic and for baseball itself. Since moving to Florida in 1986, he met his wonderful wife Kara, and they have been married since July 27, 1991.

Chris attended a small Christian college in Lake Wales, Florida; by the name of Warner Southern. He played baseball for that NAIA school for four years as a pitcher. He suffered a disappointing freshman season, but during his next three years he was able to win a school record thirteen consecutive decisions. He also threw a no-hitter during his sophomore season. He has continued to play in a very competitive league in the Lake Wales area.
---

Click here to send e-mail to the OOSL League Office with questions or comments.


---
Back to OOSL Central.
---



---
There have been
visitors to this OOSL page since 6/3/98.
---

This site designed by MoonWolf Enterprises
Copyright 2000 OOSL © All Rights Reserved
Copyright 2000 John Mortimer © All Rights Reserved
Copyright 2000 MoonWolf Enterprises © All Rights Reserved